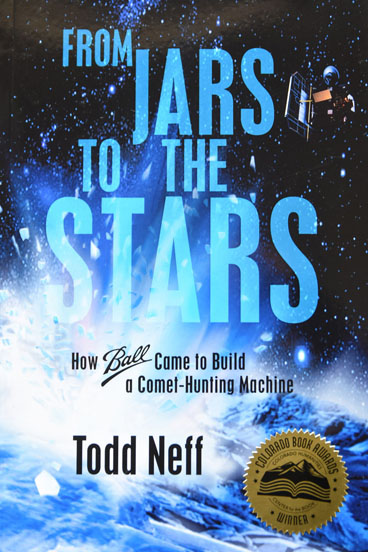 FROM JARS TO THE STARS
HOW BALL CAME TO BUILD
A COMET-HUNTING MACHINE
Winner of the 2012 Colorado Book Award for History
Available at Amazon, Barnes & Noble, and the Boulder Book Store.
From Jars to the Stars: How Ball Came to Build a Comet-Hunting Machine, tells the remarkable story of Ball Aerospace— descended from the maker of Ball jars—and its Deep Impact comet mission. The book delivers a rare inside look into the backgrounds, characters and motivations of the men and women who create the spacecraft on which the American space program rides.
From Jars to the Stars is a timeless story about science, engineering, politics and business intertwining to bring success in the brutal business of space. It is a readable, lively account of some of mankind's great modern achievements.
The book focuses on the $330 million Deep Impact mission, which smashed an impactor spacecraft into the comet Tempel 1 on July 4, 2005 when the icy wanderer was as far away from Earth as the sun. But Deep Impact is only part of the story.
From Jars to the Stars puts the mission into the greater context of humanity's continuing search for its origins via the senses of scientific spacecraft. Based on interviews with more than 100 people and exhaustive documentary and archival research, From Jars to the Stars explores the improbable beginnings of Ball Aerospace, focusing on the story of a group of University of Colorado students who, starting in 1948, built a "sun seeker" for the noses of sounding rockets studying the sun. The device set precedent for nearly all modern spacecraft, and sparked the creation and development of both Ball Aerospace and the University of Colorado's formidable space-science laboratory.
From Jars to the Stars also describes the effort behind Ball's first spacecraft, the Orbiting Solar Observatory launched in 1962. The Ball orbiter prepares the ground for Deep Impact, showing readers how much—and how little—changed across four decades of American space exploration.
The book goes on to show how Ball Aerospace evolved into an organization capable of building a comet hunter. The story pays special mind to NASA's Jet Propulsion Laboratory, the world leader in interplanetary space exploration and Ball's partner on the mission.
The Deep Impact team nearly faltered: NASA was twice on the verge of scrapping the mission as technical and money problems mounted. But against the odds, and with a telescope that came up blurry in space, Deep Impact met its mark. The surviving flyby spacecraft sent home images and data of an explosion that shed new light on comets, which, scientists believe, are a key to understanding how the solar system evolved and where we came from.
The book shows vividly that robotic space missions are indeed manned: the people just happen to stay on the ground.