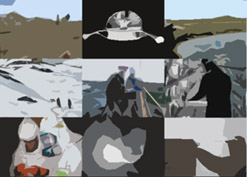 Below are links to a selection of stories I did in the mid- to late 2000s. Most are from the Boulder Daily Camera, where I was a staff writer focusing on science and the environment from 2003-2007. I've grouped them by subject and in no particular order, though the newest tend to be listed first. A handful are cross-listed.
"Randomalia," the last of those listed, includes humor and heartbreak from my experiences doing general-assignment reporting. In retrospect, they're the best of the lot.
The page formatting I left in place, retro in its own right.
Space
Climate Change
General Science
Environment
Energy
Health Care
Biological & Health Science
Investigative
Randomalia