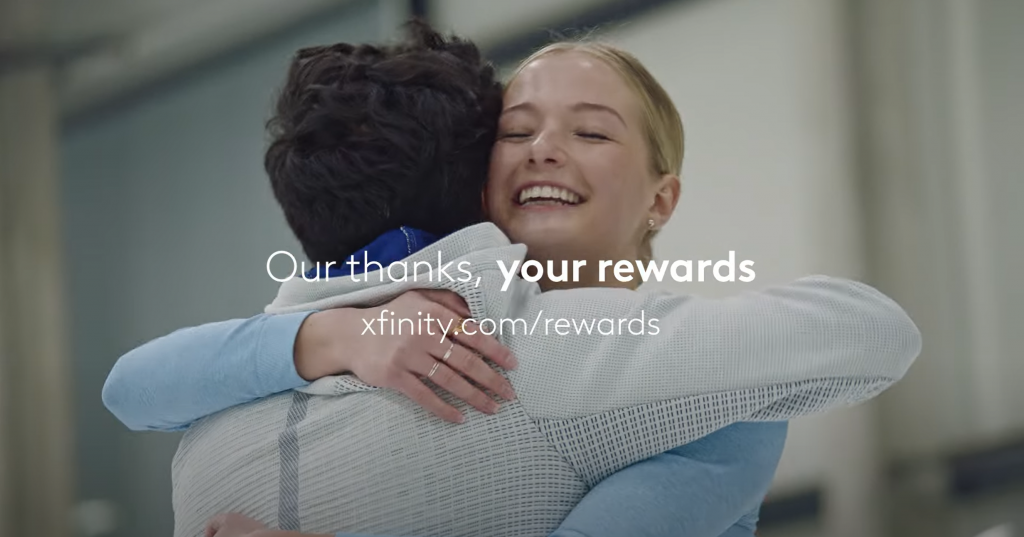 The 2022 Beijing Olympics opening ceremony is happening now. My daughter is not an Olympian. But she recently skated with one in an Xfinity ad. It's here:
Lily 18, is in her first year at UCLA studying chemistry. She has been figure skating at rinks in and about Denver since she was 4, and, she is now, in figure-skating terminology, a "senior lady." While this evokes Betty White (rest her soul) types shuffling about the ice, the term designates the top level of a female skating hierarchy that starts with Snowplow Sam (during which one learns to move forward on ice by walking with a penguin) and rolls up through pre-preliminary, preliminary, prejuvenile, juvenile, intermediate, novice, and junior. This is Lily in the Snowplow Sam era:
While she's technically on the UCLA club figure skating team, she hasn't been able to swing it much given the distance to the rink and academic and at least as considerable social demands. But her Instagram feed has some skating shots, and someone from an ad agency saw it. A couple of phone-screening interviews followed. The company called my wife here in Denver also, and while the details were vague, the shoot would involve both of them in Irvine, Calif.
They flew Carol out and put her up; they drove Lily in from Westwood. They also flew a mother-daughter combination in from Colorado – a tween-age girl whose mom was an actual skating coach.
Being immersed in skating, Lily was aware that Rafael Arutyunyan coaches in Irvine, and that, among the laundry list of past and present skating stars he has worked with, current Olympians Mariah Bell and Nathan Chen were among them.
The shoot took like three hours. They filmed her putting on figure skates, the whole bit.
They had her warm up as she's done thousands of times. At one point, a strange agglomeration of balloons appeared. Someone would be emerging from it, it was clear.
She was hoping it would be Nathan Chen, the three-time world champion and Olympic-gold favorite in Beijing. And indeed it was.
It's a testament to how small the skating world is that, during a jumps camp in Monument, Colo., some years back, Chen was serving as a counselor for a group in which Lily was assigned. He did not remember this. (Another testament: Beijing 2022 U.S. female figure skating Olympian Mariah Bell's home ice was Lily's longtime rink, the Ice Centre at Promenade in Westminster, Colo. Same coach – Cindy Sullivan – too.)
Lily and the greatest male skater alive bladed about together for a few minutes as the crew filmed away.
As they wrapped up, Lily asked Chen if she could have a hug. He obliged. This was unscripted. A crew member captured this on a phone and texted to Lily later, so it's a bit grainy.
The crew was like, "Hey, do that again." And so ended the ad.
We were told not to disclose any of this until the ad appeared. And it wasn't clear that Lily would end up in it at all. To me, having a younger kid in the role seemed more intuitively appealing. Perhaps Chen getting tied up in the balloons during that part of the shoot tipped the balance. Regardless, we found out about the ad's appearance in mid-January when a friend saw it while watching "The Office" on Freeform and emailed us. It has appeared here and there on a diversity of channels since. A buddy of mine said it was on loop when he stopped by an Xfinity Store.
Lily's now back at UCLA studying chemistry. Chen is skating for gold in Beijing. We were rooting for him anyway, of course. But just a bit more so now.