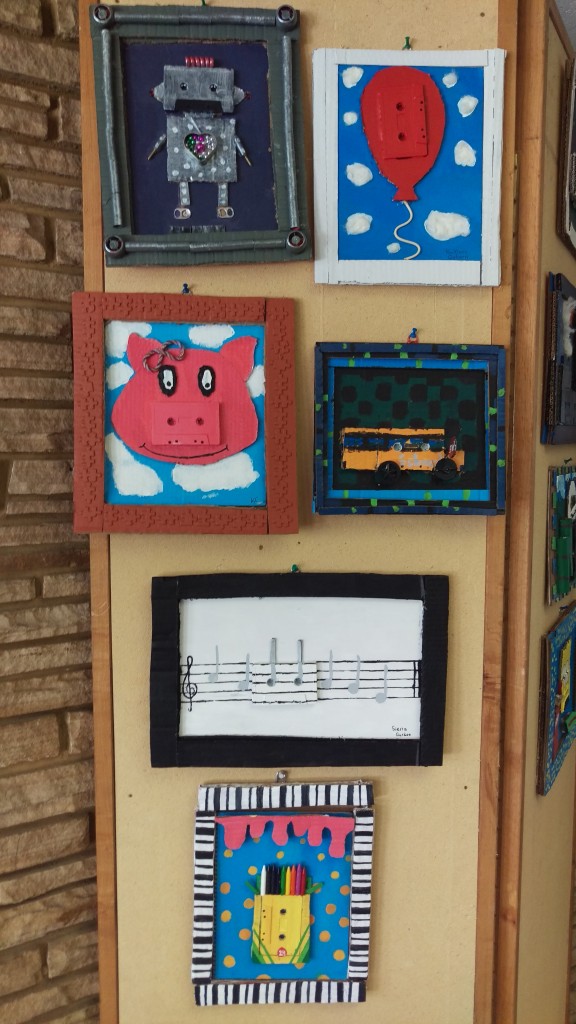 I picked up my seventh-grade daughter at the Hill Campus of Arts and Sciences (nee Roscoe C. Hill Middle School) in Denver early today. Waiting in the lobby, I perused art. I am always struck by the creativity of the average middle-school kid.
In this case, the operative medium was what was once the mainstay portable-music storage device. Unlike vinyl, the cassette tape seems to have little hope of serious resurgence, its background hiss irrepressible despite the best efforts of the folks at Dolby.
While the young artists knew what cassette tapes were, I wonder if they had any more idea of their ubiquity than my daughter had had when we had talked about it maybe a month ago, apropos a minor cleanout of my wife's 2001 Jetta GL. Cassette singles of Right Said Fred's "Too Sexy" and Los del Rio's "Macarena" had made it to the kitchen counter. Also a mixtape of 1970s bands like the Eagles.
"What are those?" Lily had asked.
"They're cassette tapes," I had said. "It's what we used for portable music before the iPod came along not long before you were born."
She had noted the strange slot in the Jetta, sometimes home to an adapter that plugged into a phone headphone jack, but generally vacant in deference to radio advertisements and NPR reports on vital transgender restroom issues.
I had asked her if she knew what a Walkman was; she shook her head. And so I had explained the concept of tape, how it's analog — whispering magnetic pulses that get amped up to audibility, not that different than a record needle scraping against imprinted ridges on an LP, which she's never seen actually play, either. I had talked of the Walkman being the ur-iPod; and of mix tapes; and of how much these cassette singles had cost in modern dollars ($2.99 each in the late 1980s/early 1990s;  that's $5-$6 now, or half a monthly Spotify subscription); and of how my $2,500 laptop back in 1998 had a 512-megabyte hard drive; and of how you wore headphones whose spongy pads tickled your ears; and of how, until later generations, you had to flip the tape. I had recalled skiing down a run called Heather at Boyne Highlands, looping over and over as Foreigner 4 did the same.
I had grown enthusiastic from all this reminiscing and interruptedmy dishwashing efforts to fetch my wife's Walkman — from the mid-1990s, bought when we lived in Japan, a sleek model. I had used it maybe a year ago to digitize cassette tapes from which I'd rambled through audio journals, oblivious to how tedious extracting useful information from them would be. I screwed on the roughly cylindrical AA external battery case and marveled at the sheer number of mechanisms these little devices had — no such thing as a solid-state tape player. I set the headphones aside  and connected a portable speaker I've since replaced with a Bluetooth model. I pressed "play."
I'm
Too sexy for my love
Too sexy for my love 
Love's going to leave me. . .
"That sounds good," Lily said.
And it really did.