A year ago today, I had just practiced my TEDxMileHigh talk to an all-but empty Ellie Caulkins Opera House the day before the big show.
There was a producer in the front row, typing away on her laptop, and, in the far reaches of the gallery, my daughters, ages 9 and 6, with my wife, who had walked over from the Johns Manville offices downtown. The guy who helped affix the not-quite-invisible mic to my ear asked if I'd done much public speaking. I said I'd done a few book talks and the like, maybe 50-100 people.
"This is nothing like that," he said.
Indeed, the place was cavernous, and surprisingly tall. Like giving a talk to the skyscraper façade.
I spent that afternoon pacing around repeating the talk, trying to get it under my allotted 10 minutes, working the slides in my converted-dining-room office. I mumbled the thing through while walking the dog. He shat righteously afterward, which I tried not to view as his critical assessment.
This year's day-before-TEDx has been much more relaxed.  I bought my ticket in March and all I have to do is show up and watch. I'm really looking forward to it (tix still available).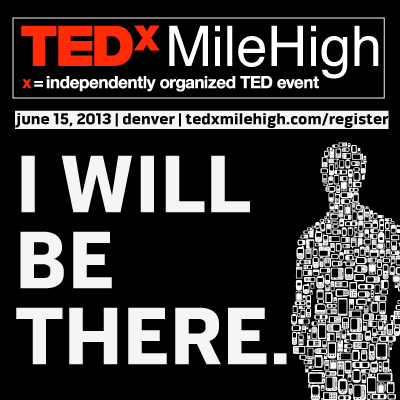 But the approach of the local TEDx conference did get me thinking, if in a more languorous and much less repetitive way than last year.
What strikes me is that, when I look through the list of speakers, I don't recognize a single name. But they're all going to be worth listening to. Some of them will be brilliant.
Our culture is so fame-focused, it's easy to be lulled into the belief that, unless you're famous to one degree or another, you must not have much to say. Or conversely, if you are famous, your views have value.
TEDx events break this notion. Last month alone saw 353 TEDx events in 80 countries, with probably 4,000 speakers, each with something different to say. These numbers offer insight into how much creativity is out there, how many innovative projects and initiatives are being brought to bear, how many exceptional people a global population of 7-plus billion is cranking out. You're 99th-percentile smart? You and 70 million others.
TEDx talks aim to be exalting. But it's the sheer number of these talks that I find most inspirational.