Articles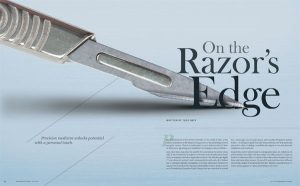 On the Razor's Edge
Precision medicine often happens invisibly, in the nuclei of cells, in the dances of proteins, in the bowels of sequencers, in the processing cores of computer servers. There's no better place to see it and even touch it than at 3D Systems' gleaming new Healthcare Technology Center in Littleton.  [more]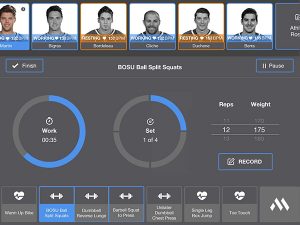 CU spin-off brings science to the medicine of exercise
There's a low- to no-cost medicine that drastically improves the fortunes of patients. It's widely available without a prescription, but to many it's an unfamiliar pill. Some who try it find it bitter, and it has been known to trigger confusion and frustration. As commonly prescribed, it's hard to dose, and from a medication-compliance perspective, providers have a hard time tracking and monitoring it.  [more]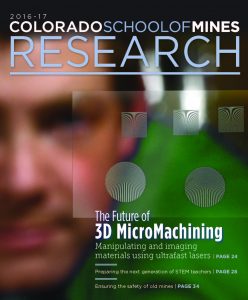 Seeing as Machining
These aren't your typical saws, lathes and presses — and it's far from your average microscope. Jeff Squier and his team do their machining with lasers, and they have combined a microscope of their own design into a single system that promises to improve everything from eye surgery to 3D printing, and at the tiniest scales.  [more]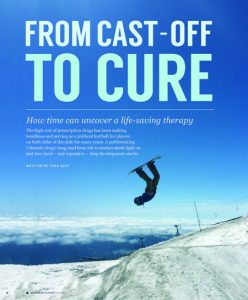 From Cast-Off to Cure
For Dominic Fuchs, it started with discomfort, then a rash, then swelling, and then joint pain that brought limping. The cause, the doctor explained, was a rare form of juvenile rheumatoid arthritis called Still's disease. Dominic had no idea what that meant; but then, he was only two years old at the time. [more]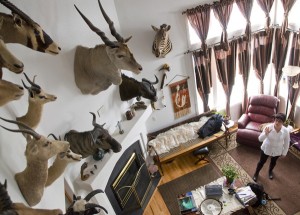 Surgeon Smashed Gender Barriers, Crossed Continents
The blue-gray Greenwood Village home looks much like the others on the street, but the two flags keeping guard above the front door offer a hint that there may be more to this particular dwelling than the exterior otherwise suggests. The stars and stripes hold one flank, the banner of South Africa the other, its stark green, yellow and black supplementing the red, white and blue on both.
Those who have met Evalina Burger, MD, know her Afrikaans accent, but that's little more than a flag. The story of how the University of Colorado School of Medicine orthopedic surgeon and spine specialist came to Colorado is as rich and variegated as the interior of the home she inhabits. [more]

From Congo to Colorado and Back Again
It was a Friday evening, and most of the surgeons' offices up and down the fifth-floor hallway were empty and dark. David Kuwayama, MD, MPA, had agreed to talk about his experience volunteering last fall with Doctors Without Borders in eastern Democratic Republic of Congo (DRC). His door had been open, and the light from the office had seemed bright in the dusk.
I had waited for my laptop to wake up and had taken in his small space: in the corner, a towering Stamina Power chin up/dip bar; on the far wall, a sizable metal yellow-diamond sign of a moose, a relic of his vascular surgery fellowship at Dartmouth; and then, on three walls, four small Médecins Sans Frontières posters push-pinned straight into the drywall at the corners. Each emphasized a different catastrophe: EPIDEMICS NATURAL DISASTERS ARMED CONFLICTS FAMINES. [more]

Gaining Steam
A steady, reliable, enormous, practically inexhaustible, carbon-free fource of electric power, one capable of producing three times the wattage the United States generates every year, is right under our feet. Or more accurately, way under our feet, where it has long tantalized geothermal energy experts. [more]

Surgery Tech Is a Roller Derby Star
A world champion walks among us at University of Colorado Hospital.
It's not hyperbole. It's Tracy Disco Akers.[more]

The Impact of Agreement
The stage was set for a showdown. In one corner were Encana Oil & Gas Inc. and Anadarko Petroleum Corporation, both seeking to further tap into the Wattenberg Gas Field in northeastern Colorado. In the other was the town of Erie, Colo., where residents of the community straddling Boulder and Weld Counties were pushing for a drilling moratorium. [more]

Meet the Megapixel Kilowatt-Hour
June 3, 2014 was a sunny day in Denver. At 7:30 a.m., two hours after sunrise, the 13 solar panels on the east-facing aspect of my roof — installed by Sunrun in June 2010 — were kicking out 1,575 watts. It was 67 degrees outside at the time. At 6:30 p.m., two hours before sunset in the west, the AC units on my neighborhood's houses were cranking in the 90-degree heat, spiking electricity demand from Xcel Energy, my local utility. My PV system's 64 watts of output, meanwhile, would have just managed to light an old-fashioned incandescent reading lamp.
It's there, amidst the 1.6 kW of morning output and 0.06 kW of afternoon output, that the panels on my roof help explain how electricity retail pricing models that grew and sustained a national electric-power infrastructure emanating from big, centralized power plants are poised to break down in a world of increasingly decentralized, customer-sited, renewable energy production. [more]
Who Needs Hyperloop? This Guy Is Building Something Bigger
A brilliant, big-thinking, subtly accented, physicist turned financing pioneer turned engineer, self-made billionaire who has led the design of revolutionary cars and rockets, Elon Musk needs no introduction. So when, on Aug. 12, Musk unveiled his idea for a next-generation transportation system, it got the attention of about every news organization between Earth and Mars, where Musk hopes to aim his rockets one day… [more]
Return to the Rails
To understand the marriage of transportation and land use, look no further than a pair of old maps—in this case, maps of Denver, though they could just as easily be those of Des Moines or Detroit… [more]
What UCHealth Might Have Taught Obamacare
You can get a lot of technology for $634 million. For about 6 percent more than that, for example, you can send an orbiter to study the atmosphere of Mars – Atlas V rocket launch, suite of eight instruments, a year-plus of operations and science-team budget included. With MAVEN, a University of Colorado-led team did just that on Nov. 18.
Or, alternatively, you can get a website that, a few days before its Oct. 1 launch, crashed and burned when burdened with the feather of 500 simulated concurrent users. Yes, we're talking about HealthCare.gov, the flag-bearer and flak magnet of the Affordable Care Act, a.k.a. Obamacare…[more]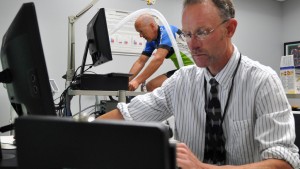 Sports Performance Not Just for Elite Athletes Anymore
The yellow jersey, one of four gracing the walls of the Anschutz Health and Wellness Center's Human Performance Laboratory, hung in a frame right above Kevin Nicol.
Three of the jerseys were from pro cycling teams grateful for the performance boost Iñigo San Millán, PhD, had helped them gain. The fourth was marked with a single signature. Para Iñigo, it began. It was from Alberto Contator, the Spanish cycling great and one of only five ever to win the triumvirate of cycling's grand tours – the Tour de France, the Giro d'Italia and the Vuelta a España… [more]
Boston Marathons Cut Short by Bomb Blasts
She was there thanks to him. "There" was 26 miles into the 2013 Boston Marathon, tantalizingly close to the finish line. She had just turned the corner onto Boylston Street. He was 100 yards or so behind on Hereford Street, the quarter-mile cutover from Commonwealth Avenue to the Boylston homestretch. The cowbells were clanging, the crowd's supportive racket – a constant since they set off from Hopkinton four hours and nine minutes earlier – rising to its Copley Square crescendo.
Then came the explosions, 12 seconds apart, and a strange kind of quiet confusion…[more]
Ortho Doc Takes Things to Extremes
Like most physicians, recent Sports Medicine Clinic arrival Omer Mei-Dan, MD, spends time in the clinic. Unlike most, he also enjoys hanging hundreds of feet above the earth…[more]
A Night in the ED
A bloodied woman came in through the waiting room. Her boyfriend had driven her in from the Century 16 cinemas at the Aurora Town Center. Barbara Blok, MD, assessed her, confirming that she had minor injuries, then asked what had happened. The young woman described the scene in theater 9 – the gas canisters, the black-clad gunman, the shooting, the screaming. She had scarcely finished when three police cars pulled in, lights ablaze. Ambulances had been unable to get through to the worst-hit victims because of all the cars and people in the cinema's lot. Aurora police officers had just lifted victims into the backseats of their cruisers, pulling out with one, two, even three injured slumped in the backseat.
Becky Davis, RN, the charge nurse on duty, ran into the warm night through the ED ambulance bay. It smelled like burned rubber. People screamed in pain. She looked inside the cars and to those who had been lifted onto gurneys by nurses and police and security staff and others working far beyond the borders of their job descriptions. Davis then ran back inside and gave the physicians and other staff a rundown of what was about to hit the double doors…[more]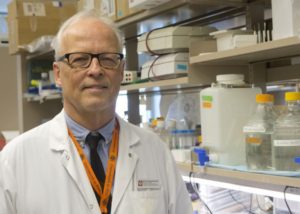 Viral gene may be a key to fighting viruses
Perhaps you don't usually get too fired up about basic research – much less basic research in the extraordinarily difficult-to-grasp field of immunology. But consider for a moment what Eric Poeschla, MD, and his team at the University of Colorado School of Medicine have been working on.  [more]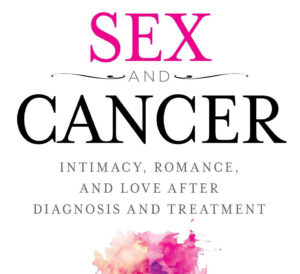 With 'Sex and Cancer,' finding the good after the bad
Doctor helps patient.
Patient helps doctor help a whole lot of other people.
That sums up the story of Saketh Guntupalli, MD, and Marilyn Karinch, co-authors of the book Sex and Cancer: Intimacy, romance and love after diagnosis and treatment, available at bookstores everywhere on July 8. There is, of course, a whole lot more to it. [more]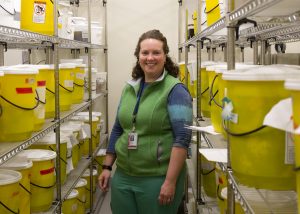 A bucket of organs leaves a lasting impression
Toni Schoenleber couldn't do her job as a stroke clinical coordinator at UCHealth University of Colorado Hospital if she didn't have brains. In fact, it's because she has brains that she knew just where to go when she needed more brains…[more]
Pioneering cannabis studies (finally) ready to launch
They have dealt with review boards, the U.S. Food and Drug Administration, the U.S. Drug Enforcement Administration, the National Institute on Drug Abuse, carpenters, ventilation engineers, locksmiths and many others. Two years and a great deal of trailblazing later, two University of Colorado School of Medicine research teams are set to launch a pair of the state's first marijuana clinical trials. [more]
One Man, Many Lives
John C. Hill, DO, is a single human being, one who is tall, lean, bald-shaven, and, on this morning in his south Denver home, wearing a belt with a silver buckle he earned by finishing the Leadville 100 Mountain Bike Race in under 12 hours. But he must have some cat in him, in his case, living nine lives all at once.
Hill has delivered a thousand babies, yet is somehow also a CU Sports Medicine subspecialist in an orthopedic musculoskeletal ultrasound technique he helped pioneer and applies to the injuries of many UCHealth patients. He's an avid cyclist, with his stationary trainer perched in a corner of the family room and a carbon-fiber tandem bike he rides with wife Gail that hangs in a space adjacent to the garage. He's also an avid biker, having ridden all over the country on a series of Harleys, one of which he rebuilt more or less from the ground up. He has hosted booths at VeloSwap; he has hosted booths at the Colorado Motorcycle Expo. [more]
Modern Metal
The 1959 Chevrolet Bel Air looks prepped for a vintage auto show, but a different fate awaits. All fins and sharp edges, it takes off straight at a silver teardrop of a Chevy Malibu a half century younger. [more]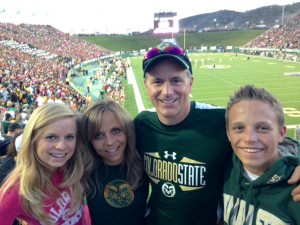 Promising Breast and Ovarian Cancer Vaccine Comes to UCH
University of Colorado Hospital is one of just two academic medical centers in the nation that has enrolled breast and ovarian cancer patients in a new clinical trial of a promising cancer vaccine. The trial focuses on the safety and early test for effectiveness of ONT-10, an immunotherapy made by Seattle, Wash.-based Oncothyreon. It's designed to stimulate the body's own immune system to attack cells expressing MUC1, a protein found in a number of cancers, but especially ovarian and breast cancers. [more]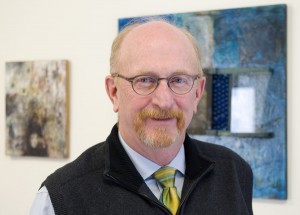 Mono, Lupus, and More in Treatment Crosshairs
The immune system is a double-edged sword. We would die quickly without it, but its problems make us ill and can even kill us: Think lymphoma, lupus, asthma, rheumatoid arthritis, and so many other autoimmune-related diseases. V. Michael Holers, MD, head of rheumatology at the University of Colorado School of Medicine, has generally attacked immunesystem disorders on their autoimmune flanks. But his latest work, which has led to several recent patent awards, may have a bigger short-term impact on diseases with their roots in viral attacks on the immune system. [more]
The 'Grand Challenges': Energy, Water, Biotech
For the 2014-2015 edition of Mines Energy and the Earth, three stories on society's "grand challenges" and how this top engineering school's faculty and students are working towards solutions: energy, in particular, assessing the real risks of hydraulic fracturing; water in an era of increasing scarcity caused by population growth, climate change and the competing demands of people, agriculture and hydrocarbon production; and biotechnology work ranging from health applications to bioenergy applications.
From the State That Legalized Weed, Comes the World's Strongest Drug Test
The security guard is young, maybe mid-twenties, tall and wiry and armed. He's friendly. He asks, "Good morning, sir. Recreational? Can I see your ID?" and directs me to the left, into a zig-zag of retractable belt barriers terminating at a long, well-lit counter.
Along the wall behind the counter is a grid of peg hooks not unlike those suspending Combos and corn nuts in roadside convenience stores. The bags here are transparent, their contents green, white-labelled with names like Blue Dream, Ghost Train Haze, Kool-Aid Kush and Industrial Paint… [more]
Hurry-Up Satellites
In June 2005, Lieutenant Michael P. Murphy was hunting down a Taliban leader in the mountains of Afghanistan when enemy bullets tore into the rocky crags around his Navy SEAL team. Forced into a ravine, they fought back, but they needed help. The surrounding ridges blocked their access to the geosynchronous satellite used to communicate with base. Murphy climbed to open terrain to get a better line of sight.
The call went through. But it cost him his life… [more]
Connecting Science and Policy to Combat Climate Change
Tricky diagnoses abound, whether the field is medicine, auto repair or high finance. For climate change the problem is magnified: Those who have spent decades diagnosing the problem have no power to write the prescription.
Scientists have the knowledge, but politicians and social institutions hold the power. Channels between them are rudimentary at best, many analysts say. Without a fundamental shift in emphasis, they caution, the scientific infrastructure so painstakingly erected to identify the problem will find itself impotent to ensure that global warming will be mitigated and civilization will adapt to its inevitable impacts… [more]
Portraits in Carbon
It's hard to avoid the number six in talking about carbon: It's the sixth element in the periodic table, and normally has six protons and six neutrons in its nucleus and six electrons hovering in loose formation around it. Carbon is abundant in the Earth's crust and biosphere, and as coal costs as little as 1.2 U.S. cents per kilogram. As natural diamonds, however, it can cost thousands or even millions of dollars per gram. The name derives from the Latin carboneum, but is rendered kohlenstoff in German, uhlik in Czech, and sekitan in Japanese.
Oh, and carbon is the basis of more than 20 million chemical compounds and thus of life as we know it.
Those are the raw, actuarial facts, perhaps carbon's dullest mugshot face. But carbon is more interesting than these facts suggest, and like a quick-change artist has many faces. Here are five more:…[more]
Connecting the Pine Beetle Dots
Forests across the Mountain West have gone orange and faded to gray. Since about the turn of the millennium, the mountain pine beetle's appetite for lodgepole has killed off four million acres of trees in Colorado and Wyoming alone. That the larvae of an insect the size of a grain of rice can bring such destruction is in itself a wonder of nature.
The changes are more than skin deep, and while questions about the effects of so many dead trees on things like forest fires may be the most obvious, some of the beetles' the biggest impacts lie downstream…[more]
Indispensble, Precarious: Critical Materials
Matt Esquibel held a jagged plate of glass in his gloved hands. A white coating had been scraped off like frost from a winter windshield.
Esquibel, a master's student at the Colorado School of Mines, had been spent the better part of two years working on ways to recycle this white coating and other materials from the glass of flat-panel displays. The coating consisted of many thousands of phosphors that glowed red, green or blue depending on a xenon haze's transmission of electric micropulses. This piece of glass Esquibel held had once been the business end of a plasma TV.
The phosphors earned their name from their behavior rather than their chemistry. They glowed thanks to a combination of rare-earth elements gadolinium, europium, terbium and yttrium. These and the 13 other rare earths count among a loose classification of substances known as critical materials, so named because they are both indispensable to the tools of modernity and precarious in supply…[more]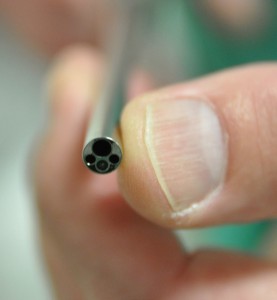 'Miracle' Back-Pain Cure, Made in Germany
Scotty Brown's back had been hurting since 2007. Then on Aug. 2, he got a most unwelcome 55th birthday present. He had eaten with a friend at the Golden Corral in Thornton and then twisted just the wrong way when he got back in the car.
Pop.
"I was literally on the ground screaming my head off," said Brown, an Aurora-based musician. "I had a gig that night – my birthday party. I told my friend, 'Take me to the club, man. I'll walk it off.' She's like, 'You're out of your mind. You can't even move.'" [more]
For some of my older stuff, check out the deep archive.