News & Events
June 12, 2017
I'm working on a new book, to be published in 2018 by Prometheus Books! Tentative title: The Life Ray. The focus is on the development of lidar, a laser technology with a fascinating deep history that's radiated into a ton of scientific, military and commercial fields. Most importantly to the mass audience, lidar looks to be indispensable to making self-driving cars safe. My aim is to mix the personal stories of innovators and the challenges they faced with a well-researched history of how the technology and some of its more important and interesting applications developed. Stay tuned!
March 2, 2014
My story about the future of drug testing, featuring CU Toxicology, has posted at Mashable. I wrote up a bit of background in a blog post here.
August 27, 2013
My profile of Daryl Oster, who envisions a global transportation system relying on sedan-size capsules floating through airless tubes at terrific speeds, has posted on Mashable. This was a fun piece to do, and Daryl Oster is an interesting guy with an idea even bigger than Elon Musk's Hyperloop, which, although the hook for the story, takes a back seat in this narrative.
August 17, 2012
If you're in metro Denver, come on out to the Tattered Cover Bookstore's Colorado Book Awards Winners' Reception & Booksigning from 7:30 to 9:30 p.m. on Tuesday, Aug. 21. It's at the store's Historic LoDo location, 16th and Wynkoop Streets. Many of this year's Colorado Book Awards winners will do quick readings/talks about their work. They include Laurena Mayne Davis (Monumental Majesty: 100 Years of Colorado National Monument); Daniel Joseph Watkins (Thomas W. Benton: Artist/Activist); Carol Sue Shride (Lucy Dakota: Adventures of a Modern Explorer Book 1—Rocky Mountain Beginnings); Dan Beachy-Quick (Circle's Apprentice); Carol Berg (The Soul Mirror); Jeffrey Bennett (Math for Life); Avi (City of Orphans); Thordis Niela Simonsen (Dances in Two Worlds: A Writer-Artist's Backstory); and Todd Neff (From Jars to the Stars). Can't make it to the signing? Request an autographed copy at books@tatteredcover.com.
July 15, 2012
Check out my TEDxMileHigh talk, "Colorado Mavericks." It's a counterintuitive look at the risk-taking legends of Colorado's three wealthiest men — Charlie Ergen (Dish Network), John Malone (TCI/Liberty Media) and the prolific investor Philip Anschutz.
June 22, 2012
From Jars to the Stars was awarded the 2012 Colorado Book Award for History at the Colorado Humanities and Center for the Book awards ceremony in Aspen, Colo.
April 20, 2012
I'll be presenting on From Jars to the Stars at the Boulder Rotary Club luncheon on Friday, April 27. Presiding: retired Ball Corp. CEO David Hoover.
April 14, 2012
From Jars to the Stars is one of three finalists in the history category for the 2012 Colorado Book Awards. Winners to be announced in Aspen on June 22.
December 28, 2011
I spoke with Pat Mack of Colorado Public Radio's Colorado Matters about From Jars to the Stars in an interview airing today. The discussion ranged from the Ball Aerospace-built Kepler planet hunter, Hubble Space Telescope instruments, and the Deep Impact comet mission.
December 12, 2011
Al Bartlett, University of Colorado physics professor emeritus, reviewed From Jars to the Stars in the December 2011 issue of The Physics Teacher. Bartlett, who arrived as faculty in 1950, watched the Rocket Project that launched the Colorado space business (as well as Ball Aerospace and CU-LASP) unfold. In his review he wrote: "This is a wonderful source for students who want to gain some feeling and insight for the aerospace business and the aerospace frontier. The book is easy to read, and if you're a space jockey, this book is for you.
The author, Todd Neff, was the science writer for the local Boulder newspaper. He has done an excellent job of bringing the flavor, excitement, frustrations, failures, and successes of a segment of the aerospace industry to the readers of his very fine book."
November 16, 2011
From Jars to the Stars was honored as a finalist for the American Astronautical Society's 2010 Eugene C. Emme Astronomical Literature Award at the society's annual conference in Houston. Congratulations to the co-winners, John Logsdon, for John F. Kennedy and the Race to the Moon (Palgrave Macmillan); and Asif Saddiqi, for The Red Rockets' Glare: Spaceflight and the Soviet Imagination, 1857-1957 (Cambridge University Press). The other finalist was Mary Roach, for Packing for Mars (W.W. Norton).
May 19, 2011
Denver's Channel 8 is broadcasting my Denver Press Club talk on From Jars to the Stars throughout May (Tues., 9 a.m.; Weds., 12:30 p.m.; Thurs., 6 p.m.; Fri., 7 p.m. & 10 p.m.; Sun., 8:30 p.m) or catch it online here.
May 1, 2011
Alvin M. Strauss, a Vanderbilt University engineering professor and director of the Tennessee Space Grant Consortium, reviewed "From Jars to the Stars" for CHOICE, a publication of the Association of College & Research Libraries. "This is a well-written book that successfully weaves people, organizations, science, and engineering together to make a very readable and valuable history. Summing Up: Highly recommended," his review concludes.
April 15, 2011
I'll be presenting on "From Jars to the Stars" tomorrow, April 16 at 7 p.m. at the Broadway Book Mall, 200 S. Broadway, Denver, tel: 303-744-2665.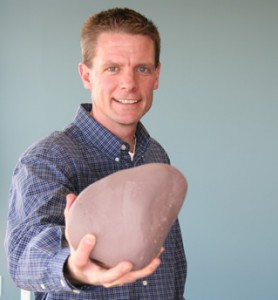 February 16, 2011
What a Valentine's Day bash it was. JPL and Lockheed Martin Space Systems engineers pulled off a remarkable success, capturing amazing new shots of the Deep Impact target Tempel 1, and even the crater Deep Impact left behind. Check out the Stardust NExT web site for images and some interesting videos.
I was in Washington D.C. for the events, signing books at the Smithsonian National Air & Space Museum's Udvar-Hazy Center on Saturday, Feb. 12 and at the downtown museum on the National Mall on Sunday, Feb. 13. On Valentine's Day, he presented on the book at NASA Headquarters downtown, receiving a scale model of the comet Tempel 1 in appreciation.
February 7, 2011
One week from today, February 14, 2011 — Valentine's Day — two of NASA's great recent successes, the Deep Impact and Stardust comet missions, come full circle. That's when the Stardust spacecraft flies past comet 9P/Tempel 1, Deep Impact's target on July 4, 2005. Stardust was, like Deep Impact, an incredible mission. Whereas Deep Impact smashed half of itself in to Tempel 1 and took pictures of the carnage with its surviving half, Stardust raced through the tail of comet Wild 2 in 2004. The spacecraft grabbed particles in a superlight solid called aerogel, and then dropped a capsule encasing the aerogel into the Utah desert in 2006. Now, as a NASA "mission of opportunity," Stardust NExT will take photos of Tempel 1, which is back after a 5.5 year orbit that led it as far astray as Jupiter's neighborhood before the sun pulled it back toward Earth again. So snuggle up with your significant other and tune in to NASA TV at 11:47 p.m. EST/9:47 p.m. MST/8:47 p.m. PST, when the flyby will happen.
February 4, 2011
My guest opinion piece is up at ColoradoBiz. It's about how the more things change in the space business, the more they stay the same.
January 29, 2011
Listen to a 90-minute roundup of "From Jars to the Stars" on The Space Show with Dr. David Livingston, recorded Friday, January 28. Like the book, the talk touches upon everything from the Rocket Project of the late 1940s-early 1950s to the challenges of budgeting modern space missions.
January 27, 2011
The Denver Press Club hosts my reading/presentation of "From Jars to the Stars" tonight at 6 p.m. Book launch party to follow at 7 p.m. in this historic venue. If you're in town, come on down — 1330 Glenarm Place, across from the Denver Athletic Club.
January 24, 2011
The Boulder Book Store hosts my reading of "From Jars to the Stars" at 7:30 p.m. tomorrow, Tuesday, Jan. 25, 2010. I'll be doing more a show-and-tell presentation than a straight reading.
Also, on Tuesday morning, I'll will be on KGNU Radio's "How on Earth" with Joel Parker from 8:35 a.m. to 9 a.m. (88.5 a.m. Boulder/1390 a.m. Denver). The archived recording is online here; the interview starts 17:30 into the show and runs about 12 minutes; note the music: Kraftwerk's "Comet Melody," which Joel picked out especially for the occasion. Note that Joel, a space scientist with the Southwest Reserach Institute working on the New Horizons mission to Pluto and the Kuiper Belt, among other things, was working the control board during the interview.
January 10, 2011
A Q&A with me about From Jars to the Stars appeared in the January 6 edition of University of Colorado Arts & Sciences Magazine("'From Jars to the Stars,' with help from CU.)"
December 20, 2010
Check out my piece on 60 years (and counting) of underestimating the cost and effort associated with space missions — and why it'll never change (The Space Review, December 20, 2010).
December 13, 2010
SAVE THE DATE(S)!
For those in the Denver-Boulder area, mark your calendars for one of three January talks:
The Boulder Book Store (1107 Pearl Street, Boulder) at 7:30 p.m. on Tuesday, Jan. 25, 2010. Todd will be joined by a special guest from the pages of From Jars to the Stars at this first public reading in Boulder.
University of Colorado LASP (1234 Innovation Drive, Boulder) at 7 p.m. on Wednesday, Jan. 26. The focus here, at the modern-day evolution of the pioneering CU Rocket Project, will be on the LASP/Ball Aerospace origins story.
The historic Denver Press Club (1330 Glenarm Place in downtown Denver) at 6 p.m. on Thursday, Jan. 27. Following the reading, join us for the official From Jars to the Stars book-launch party.
December 12, 2010
The Daily Camera reviews From Jars to the Stars.
December 8, 2010
The Planetary Society's Emily Lakdawalla reviews From Jars to the Stars.
November 30, 2010
In the November 26-December 2 edition of the Denver Business Journal, Bruce Goldberg's "Street Talk" column leads with a great rundown of "From Jars to the Stars." His column on page A4 is titled, "Ball Aerospace stars in Neff space-history book."
Bruce, a former colleague at shuttered DBJ sister-publication Front Range TechBiz, is an editor, columnist, humorist, and president of the Denver Press Club, for which he's been a dedicated volunteer for many years now.
November 18, 2010
Working on a presentation for my first public reading of "From Jars to the Stars." As it would happen, it's at Ball Aerospace itself, the company whose exploits over the past 60-odd years the book is about. Nobody knows more about Ball Aerospace than this crew. Although I suppose not many of them have been through the Minnetrista Heritage Collection archives to dig around for half-century-old letters pertaining to the formation of the company.
Or the National Air & Space Museum archives, or the NASA History archives etc etc. But despite my best efforts to learn their business, they know a lot more about spacecraft development than I do, and they always will.
We've set up a "From Jars to the Stars" community page on facebook, linked by a fancy Facebook box on this page. Become a fan! I'll probably use that as the go-to place for announcements. I posted 100+ photos there, many of which are in the book, many of which are not. Nice thing is, like the e-book versions (iBook, Nook and Kobo still pending; Amazon Kindle available here), the color photos are. . . in color!
Note that if you downloaded the Kindle version of "Jars" prior to about November 12, a coding quirk erased the front cover image — this has been rectified. That version also had a strange, digital-only text gaffe that changed the sentence "Good scientists have much in common with successful entrepreneurs" to "Food scientists have much in common with successful entrepreneurs." This may be true of food scientists, too, of course, but I have never met a food scientist and am in a poor position to make broad declarations about them. So please delete the version on your Kindle and re-download it in the next couple of days for a fresher (and, we hope, final) version.
Two weeks after the Deep Impact spacecraft's encounter with its second comet, the images of Hartley 2 continue to amaze. This particular link is really interesting because Mike A'Hearn's team has created a sort of two-slide show demonstrating what the Hubble Space Telescope-derived deconvolution algorithms for Deep Impact's High Resolution Instrument (big telescope) are capable of. It's astounding, if you think about it, that applied math can turn the foggy version of this image into the crisp one alternating with it.
Space scientists are always saying that a given bunch of data will keep them busy for years, but thinking about the 120,000 shots-plus-spectra pouring back from the Deep Impact/EPOXI spacecraft, it's hard to be skeptical of them at this point. One interesting thing I learned from a recent visit with Alan Delamere, the man who brought Deep Impact to Ball and now an EPOXI science-team member, is that the High Resolution Imager missed the comet during the very closest approach. But it still captured some amazing shots.
Alan is a delightful guy. I brought my daughter, Lily, 7, up to his Mapleton Hill home in Boulder a couple weeks back, to talk about the book and see some EPOXI images. He has a sort of scientist's lair in a converted attic–multiple flat-screen monitors, the major IT work courtesy of his son Philip, who does this sort of thing for a living. I spent several hours up there in 2006-8, going over old Deep Impact proposals, learning about the origins of the Discovery Program, generally being brought up to speed on how the space business works. Now here I was with Lily and Alan's granddaughter Hannah. Both wore red-blue 3-D glasses as they checked out 3-D Mars Reconnaissance Orbiter images on Alan's screens (Alan is also on the HiRISE science team — HiRISE being the imager that overtook Deep Impact's big telescope as the largest ever to leave Earth orbit).
Along the way, we had lunch with former Deep Impact program manager Monte Henderson, without whose championing of my journalistic efforts I would have never been able to report the book. Lily's a few years from being able to digest this thing, but I wanted to be able to reminder her one day that she'd met two of these very key players.
The Deep Impact spacecraft has, for trivia buffs out there, brought home images from 40 percent of the comets ever seen up close (okay, two of the five). It would be interesting to know what percentage of cometary data in general this spacecraft has brought home. Stardust, with its sample-return in 2006, might still have it beat — there's a lot of information packed into those hunks of comet dust.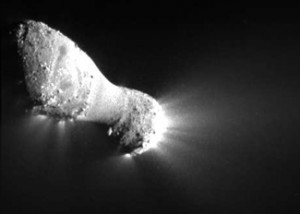 November 4, 2010, part II
Comet Hartley 2, courtesy the Deep Impact/EPOXI spacecraft and a ton of work by Ball Aerospace and JPL engineers as well as Mike A'Hearn's University of Maryland-based science team. (NASA/JPL/UMD photo)
A few words about the stunning success of the Deep Impact spaceraft's flyby of comet Hartley 2 today. First, if you haven't seen the imagery, check out the EPOXI mission website (Deep Impact's rebranded name). Phenomenal shots. And if keep in mind that every image delivered today was taken from the smaller Medium Resolution Instrument — not the big telescope, the biggest ever to venture beyond Earth orbit when launched in 2005. Its images come back blurry and need to be deconvolved, a story in itself that I talk about in the book. Those are going to be amazing.
I think it's easy to forget how hard it was to deliver these images. Never mind the incredible efforts, described in From Jars to the Stars, to get Deep Impact built, launched and behaving in space. Watching NASA TV (the JPL crew did a great job with coverage, btw), it's easy to be lulled into the belief that swinging by a new comet is akin to taking a quick detour to the dry cleaner's on the way home from work.
But think about it. Deep Impact is in orbit A, comet Hartley 2 is in orbit B. NASA agrees to a $33 million follow-on mission (it ended up $42 million, because everything in space costs more than we think it will) combining Drake Deming's planet hunt (EPOCh) and Mike A'Hearn's comet flyby (DIXI). EPOXI is born. But to get to another comet, you've got to meet it at point C. The comet's going to be invisible for much of its trip, too far from the sun to ignite the amazing jets we saw today, darker than charcoal. When it shows up as a blur on the biggest telescopes on Earth, it turns out Hartley 2 is small and volatile, jetting all over the place, each jet an orbit change, each orbit change an alteration of the time it will be at point C — which, by the way, is changing, too. You've got a good deal of fuel, but not an infinite amount of it. So you've got to figure out when to fire your thrusters, how to use Earth as a slingshot to change the spacecraft's orbit, all sorts of things. It takes gobs of navigation talent, which the Jet Propulsion Laboratory fortunately has in rare abundance.
At encounter, Hartley 2 was in a different place in the solar system — most importantly, at a different relative position with respect to the sun and Earth. That affects communications, as was mentioned in the NASA TV coverage. Deep Impact's big antenna was oriented so the spacecraft could talk to JPL's Deep Space Network and image comet Tempel 1 simultaneously thorughout the approach. With Hartley 2, they had to physically reorient the spacecraft to send data home, then reorient back on target. So you have to figure out when to shoot and when to drain the memory cards, so to speak. Thermal control was also an issue — the sun gets things really hot out there, and it's frigid in the shade. Completely different calculus. Add to this the fact that, as with Deep Impact, the decisive moments happened under the control of AutoNav, the autonomus navigation software enhanced for Deep Impact. No humans involved.
There's much more. The point is, a group of engineers at Ball and JPL and scientists led by Mike A'Hearn have been working on all these details for years. Their spacecraft traveled 3 billion miles to capture incredible data about a 1-mile-long object from 435 miles away — farther than New York City is from Raleigh, North Carolina — at a relative speed of more than 27,000 mph. In all, it was another amazing achievement in space.
Notable EPOXI press: New York Times, Los Angeles Times, CNN, Der Spiegel.
October 23, 2010
The first editorial review of "From Jars to the Stars" is in! It's from Leonard David, an esteemed space writer now with the Coalition for Space Exploration.
"The award-winning author has done a masterful job in telling the story that there's more to space exploration than space and exploration – it's the people!" David writes. "Neff has captured the dedication and creativity of engineers, designers and others – the collective enterprise of imagineers who make space exploration happen." Read the whole review here.