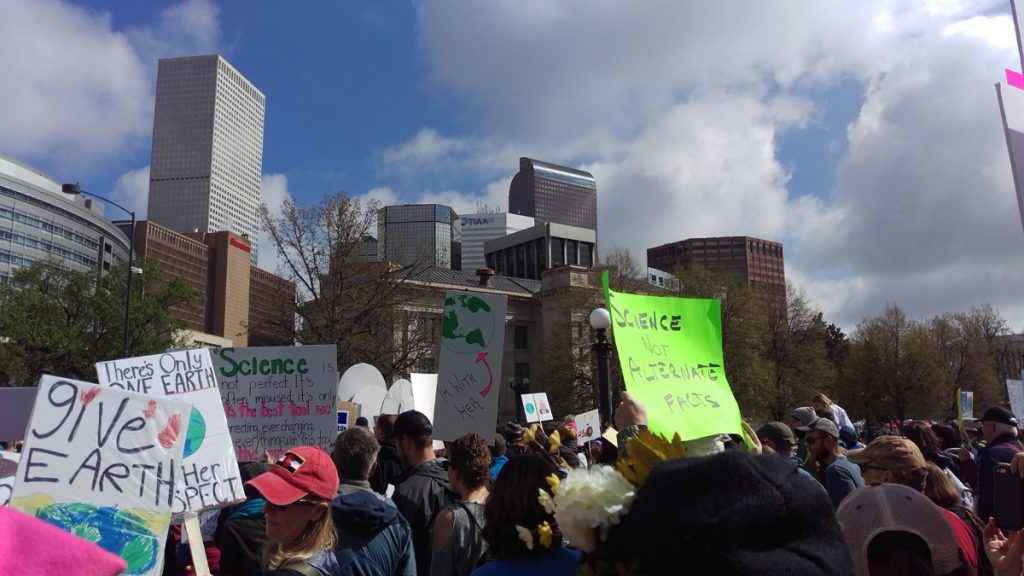 It's a bit embarrassing to say, but I attended my first political march just a couple of weeks back — March for Science Denver. Brought along the girls and their good pal Laine. They were surprised that someone as open/occasionally strident about politics hadn't put feet to concrete for political purposes before. I said, no, you've got me by 35 years on this one.
Part of the reason I hadn't attended a march is that I'd attended marches, but as a newspaper reporter covering them. As a reporter, your strident opinions/biases are kept quiet, generally by policy (political contributions were, for example, forbidden by Scripps' scripture, the then-owner of the Daily Camera).
Anyway, we hand-made signs and last-minute Saran-wrapped them, not having interpreted the weather forecast as accurately as might have, for example, Mike Nelson, who gave a great kickoff speech.
I've not found crowed estimates, but I'd say 20,000, minimum. Many people. And many great signs. A good toe-dipping in fighting-the-good-fight grassroots protest. I took a lot of photos; a selection below.